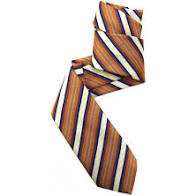 Dark Orange, Cream, Navy, and Pale Aqua Mogador Stripe Woven Silk Tie
100% silk. Hand sewn in Italy.
Regular tie length is 58",
Robert Jensen is a menswear company specialized in ties and pocket squares. Founder and designer, Bob Jensen, has been at the forefront of American neckwear for 30+ years.