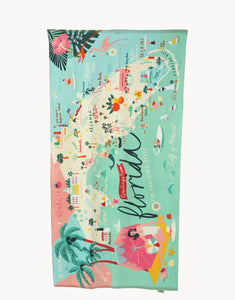 Wrap yourself up in one of our adorable Greetings From Beach Towels, which coordinate with our Greetings From totes and accessories.
Whether it is the plains of Texas, shores of Florida, or streets of Charleston, our Greetings From collection continues to travel even further this season. Our cute and colorful illustrations of even more dreamy destinations appear on bags, beach towels and our new 18KT gold plated charm necklaces! So, where shall we go, love?
Hear that? Like the song of the Spartina mermaid, the Sunshine State beckons sun lovers year round to its reefs in the Keys, races in Daytona and cocktails in Miami. Whether you stroll through an orange grove or glide through the Everglades, we suggest surfing Cocoa Beach, tee time in Sarasota and touring St. Augustine, the oldest city in our nation! Palm trees, sandcastles, surfing it is where even the sun has fun.
Plush cotton velour
Machine washable
Width: 37 in.
Length: 70 in.